"I swore never to be silent whenever and wherever human beings endure suffering and humiliation. We must always take sides. Neutrality helps the oppressor, never the victim." -Elie Wiesel
Our Purpose, Social Justice
The Social Justice Ministry 's purpose is to research, investigate and interpret social justice issues and concerns for our congregation. These issues and concerns may be of local, national or global significance and relate to a wide range of moral and ethical questions and circumstances. The Social Ministry Team will provide the congregation with relevant and timely information, as well as suggest a course of action to consider when confronting social injustice.
Some current issues of concern…
Homelessness in Our Community
A 2013 report from the Collier County Schools revealed that there were over 1,000 homeless students enrolled in our county's schools, and that there were homeless students in every school in the county.
Awareness of this problem led members of VPC's Social Justice team, then called the Christian Witness in Public Life (CWPL), to help create the Faith Communities to End Homelessness (FCEH). FCEH partnered with the Hunger and Homeless Coalition and the Homeless Education Department of Collier County Schools to develop a supportive advocacy strategy to achieve this end.

In 2013
1,000 homeless
students enrolled in our Collier County schools.
---
FCEH
Faith Communities to End Homelessness, a community based advocacy group consisting of members from 19 local congregations whose efforts focus on preventing and ending homelessness in Collier County by 2020
---
In researching homeless issues, FCEH learned early on that Collier County government lacked both the interest and the capacity to tackle the problem of homelessness and relied exclusively on non profits to deliver services to this population. FCEH experienced a lack of county support when it launched its fundraising campaign "A Home for Every Heart" last year. This campaign was undertaken specifically to raise the funds necessary to secure a federal grant to provide rent help to local homeless families and after being given assurances by county officials that they would seek such a grant, the county arbitrarily decided not to do so. This had a significant negative effect on FCEH's fund raising effort.
FCEH has now concluded its "Home for Every Heart" fundraising campaign. The $21,209 that has been raised has now been awarded in the form of a grant to the Collier County Hunger and Homeless Coalition, to provide rent assistance/housing assistance to families with children at risk of, or are experiencing homelessness. The grant, which does not involve the county government, provides rental assistance and re-housing for about 25 local families with children over a period of 12 months. A supplemental grant will provide these families with a case worker to further help stabilize their housing situation.
FCEH continues to focus its efforts on promoting community awareness about homelessness, but will rely primarily on the leadership within the faith community to play a more active role in supporting the needs of the homeless in our community. Two members of the clergy have agreed to co-chair a clergy group which will meet periodically to discuss ways this may be accomplished.
Check out these websites to learn more about FCEH and the Hunger and Homeless Coalition (HCC) http://www.fcehcollier.com and http://collierhomelesscoalition.org/cchhc/
Fair Treatment and Fair Wages for Farmworkers
---
The Coalition of Immokalee Workers (CIW) is a worker-based human rights organization. Currently nationally and internationally recognized, CIW is a leader in the movement to end human trafficking through its work to combat modern-day slavery and other abuses committed on agricultural field workers. CIW's Campaign for Fair Food led to a penny- per- pound bonus being paid to the workers from participating tomato growers, along with an agreement from many retail purchasers to purchase tomatoes only from those growers. Equipped with a Fair Food Agreement, workers are now able to work in a humane environment and receive a living wage.
 Check out CIW's Website: http://ciw-online.org    
Interfaith Action of South West Florida teaches people of faith about the CIW mission and ways in which they can participate to bring justice to agricultural farm workers. Through bringing the moral weight of faith-based voices in society, it has played a crucial role in bringing about historic agreements with several fast food retailers and a few grocery retailers. It is a founding member of the Alliance for Fair Food.

VPC has been working with the Coalition of Immokalee Workers through Interfaith Action and Dr. Tom Harp, our retired pastor was chair of that group. 
In the fall of 2010, Vanderbilt hosted "Harvesting Hope: Cultivating Justice in the Fields". The weekend consisted of discussions, a workshop, and a special concert to   bring CIW's social justice message to the community.  
Check out Interfaith Action's Website: http://interfaithact.org/index.php
Some of CIW's Recent Accomplishments
In January 2014, Walmart signed an agreement to join the Fair Food Program. In April, the feature-length documentary Food Chains, premiered at the Tribeca Film Festival, setting the stage for a successful theatrical release in the fall. The Social Justice Ministry team has since purchased the rights to the film, which has been shown at VPC and is being offered to other churches at no cost. In September the CIW was awarded the Clinton Global Citizen Award, honoring the tremendous human rights gains in the fields through the Fair Food Program. In October, the CIW launched the long-awaited Fair Food Program label, the product of two decades of farmworker organizing in Florida and over a decade of consumers mobilizing alongside CIW across the country. November marked the launch of the Alliance for Fair Food, a response to the outpouring of new involvement in the campaign that builds on CIW's greatest strengths as it expands its network. And finally, Fresh Market signed an agreement to join the Fair Food Program and just recently, the Compass Group, the world's largest contract food service company, announced plans to extend the "Fair Food" Code of Conduct and Premium to crops other than tomatoes and beyond Florida," with the goal to complete that expansion by 2020.
As the Washington Post reported recently, " the CIW continues to be one of the great human rights success stories of our day and VPC has been there to help!
For a more detailed account of the Fair Food Program see their Annual Report: http://fairfoodstandards.org/reports/14SOTP-Web.pdf
Gay and Lesbian Human Rights and Acceptance
---
OUR VISION STATEMENT CALLS US TO BE…."so inviting, welcoming and inclusive" as a congregation.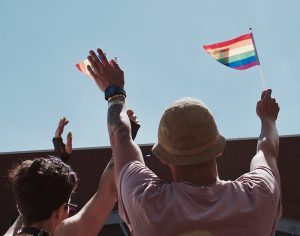 "I'm Gay"……………..Feel your initial response to a person announcing he/she is gay/lesbian. Now, consider your response if this person is your beloved son/daughter, grandchild, spouse or close friend. How do you respond? How do you relate? How can you understand what they/you are feeling and the worries for the future? How do you relate to their significant other, their children with either two moms or two dads? In our current culture, homosexuality is a political, social and often religious issue. So where and how does the family get their support so they can continue to cherish their loved one.
In Naples, we have support groups for grief, caregivers, Alzheimer families, diabetes, cancer, stroke, heart disease. But did you know we also have a wonderful support group for friends and families of Gay, Lesbian, Bisexuals and Transgenders? That support group is PFLAG.
PFLAG began in 1972. Their mission promotes the health and well-being of gay, lesbian, bisexual, and transgender persons, their families and friends through: support to cope with an adverse society, education to enlighten an ill-informed public, and advocacy to end discrimination and secure equal civil rights. PFLAG provides opportunity for dialogue about sexual orientation and gender identity, and acts to create a society that is healthy and respectful of human diversity.
VPC as a welcoming and inclusive congregation that actively supports PFLAG's aims and purposes; in fact we hosted their 4th Annual Interfaith Convocation in 2011. This annual convocation is an opportunity for all faith traditions to come together with a sense of connectedness but also diversity without prejudice. The convocation can lead to opportunities for developing lines of communication and dialogue on this most sensitive of issues, which reaches across all faiths and families.
These are only a sample of some of the issues the Social Justice Team is concerned with. If anyone has an issue for us to consider, please let us know. Better yet, join our team and "walk the talk". We meet on the second Tuesday of each month at 5:30pm.