Vacation Bible School
Registration Information! 
Summer is just around the corner!
We are thrilled to be able to have our  Vacation Bible School again this year!
Check out the information below for details.
Click the links to register!
Remember, it is first come, first served.
We have a limit for the event – so sign up today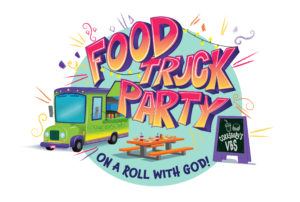 Vacation Bible Fun
Our Vacation Bible School "Food Truck Party" theme invites kids to get on a roll with God, July 18-22, 9am-12pm for students who are four years old by Sept. 1, 2022 through Fifth Grade.
Fee is $25 per student.
Payments can be made online at the link below or via check dropped off at the church office. Please indicate "VBS" in the memo.
Spots are limited to the first 50 registrants with received payment.
Volunteer opportunities are available for adults, college students, high schoolers and middle schoolers. 
Children and volunteers, alike, will learn to pray as Jesus teaches us in Matthew 6:11;
"Give us this day our daily bread."
These words serve as a reminder that everything we have comes from God — and that it's by turning to God in prayer that all of our daily needs are met.
Click here to Register VBS participants & Volunteers
Email Heather Mikes for Questions at [email protected]